Most of you reading the Totogaming review already know what Totogaming is (In case if you don't know, you can read it here). Before posting this review, we tested their platform, asked locals, and did some surveys about Totogaming. The review contains a review about their platform's sports betting, casino, registration, translation, support, etc.
While testing their sports betting, while comparing to other bookmakers, we noticed that their odds are usually higher than other bookmakers, which is good. However, the downside of that is their event odds swing a lot. Another downside of their sports betting is the Cashback feature.
As you may know, Cashbacks in sports betting are when you want to cancel a bet that you have placed. Most of the bookmakers will give you a little money if your bet is not going your way. Or if everything(including result, time, etc.) is the same as when you have placed the bet, it will almost refund all your money. If you are close to winning a bet and the result is going in your way, then the cashback offers some profit for you.
However, this is not the case in Totogaming. If your bet is not going in your way, then the cashout feature disappears. If everything is even, you can only cashout a small part of your money. And, even if the bet you have placed is going in your way, then cashout will give you less money than you have put into the bet.
But one good side of their sports betting is that you can watch almost every sport. Even if you have no balance in your account. Most of the bookmakers won't let you watch live sports if you have no credit on their platform.
Totogaming casino is a nightmare. Their server speed is slow, and most of the time, your device starts lagging. There is nothing proven, but most locals know that winning with Totogaming casino is nearly impossible.
The nightmare begins with their slow servers. Almost every game lags, no matter what device you use or what network provider you have. Sometimes their casino will operate normally, but there is no logical reason behind it.
Almost everyone knows that gambling in casinos will result in a loss in the long run. However, after testing all the gambling platforms in Armenia, we concluded that their casino is a total rip-off. All the games with the same name and look are the same in different casinos, but casino owners can modify the game, which is normal. However, Toto modifies the games unusually, which almost everyone can notice the rip-off that they do.
In online casino slots games, you may be familiar with the cashback feature. Cashbacks happen when you lose money that you have deposited into the casino and played any slots game. Usually, the cashbacks are 10%. This means if you deposit 30000AMD and lose 20000AMD, the next day, you will receive a cashback of 2000AMD, which in the end, you will have 12000AMD. But this is not the case in Totogaming casino slots games.
In most cases, you will not receive any cashback from them. When you contact them about that, they will tell you to read the cashback rules. In some cases, they say, "don't worry, we planned lots of special gifts for you."
Registration and Verification Process
Their registration process is pretty easy. But the verification process is messy. According to their website, you can verify it online for Armenians, but this is not true, and you have to visit a bookmaker shop to sign an agreement.
When depositing money to their platform, the process is easy. The money deposits are almost instant. However, their withdrawal system is a mess. Sometimes you will withdraw and receive your money instantly, sometimes it takes around 10 minutes, and other times it could take a day. While we were testing their platform, we concluded that most of the time, when you request a withdrawal, it may not go through. Pending withdrawal does not mean your request is pending. This may sound a little confusing, but it may show you that your withdrawal is pending when you request money withdrawal. However, your withdrawal request was not sent to them at all.
The Armenian version of Totogaming has four languages. The languages are Armenian, Russian, English, and Farsi. As the website's primary language is Armenian, the Russian translation is done perfectly for their website. However, English translations are terrible that will make you laugh sometimes. There is no grammar used for English. Google translate will do a better job at that!
Additionally, the Persian/Farsi translation is incomplete and, in some cases, wrong.

Totogaming Support Review
Totogaming has 24hour support. There are different types of support, for example, live chat, call, or email.
Their agents are friendly and treat their customers well. There was a minimal number of reports that their support agents are toxic/unfriendly. However, There was a case, which the support agent didn't say "Hi" and was rude in live chat when connected to the customer. We cannot expose the screenshot of the chat for user privacy.
Totogaming Website Review
We tested their website on both desktop and mobile devices. Their website is not user-friendly and is not responsive for mobile devices (not being responsive for mobile devices means that the website does not perform well on mobile devices, or the design layout messes up while using mobile devices). You can take a look at the picture below.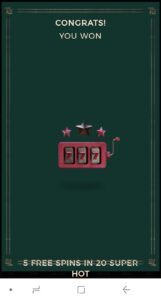 The photo above is from the bonus section of Totogaming's casino. As you can see, the text does not fit the box. Moreover, the exit sign is at the top, outside the box. (We did not include it in the screenshot for user privacy) Also, you will not see the buttons even if you scroll down with mobile devices. This just an example.
The website is not user-friendly because, compared to other bookmakers, it is harder to understand and figure out how their website works. In addition to that, most of the sections are not accessible when you some specific sections. For example, while playing some casino games, the homepage is not accessible, even if you click on the menu. Or you cannot access your account when you are in the casino section. Other than that, there many other problems with their website.
Totogaming Mobile Application Review
They have four different mobile applications. The applications are currently for Armenian users. Their Sports Betting, Poker, and Belote apps are user-friendly and have a pretty nice design. However, you cannot use bonuses given for sports gambling with their Sports Betting app, and you have to use their website for that.
But their main application, which is playing in the casino(you can also use it for sports betting as well), has problems. Many locals complain that they cannot access the app because the app does not function and respond after installation.
Totogaming Review Conclusion
We do not recommend gambling to anyone, nor we recommend using Totogaming. The biggest problems of Toto are their website casino, translation, and user-friendliness their website.