gg Taxi is a taxi service that operates in Armenia. According to its website, it can also be used in Russia and Georgia. You can simply request a ride from their mobile application.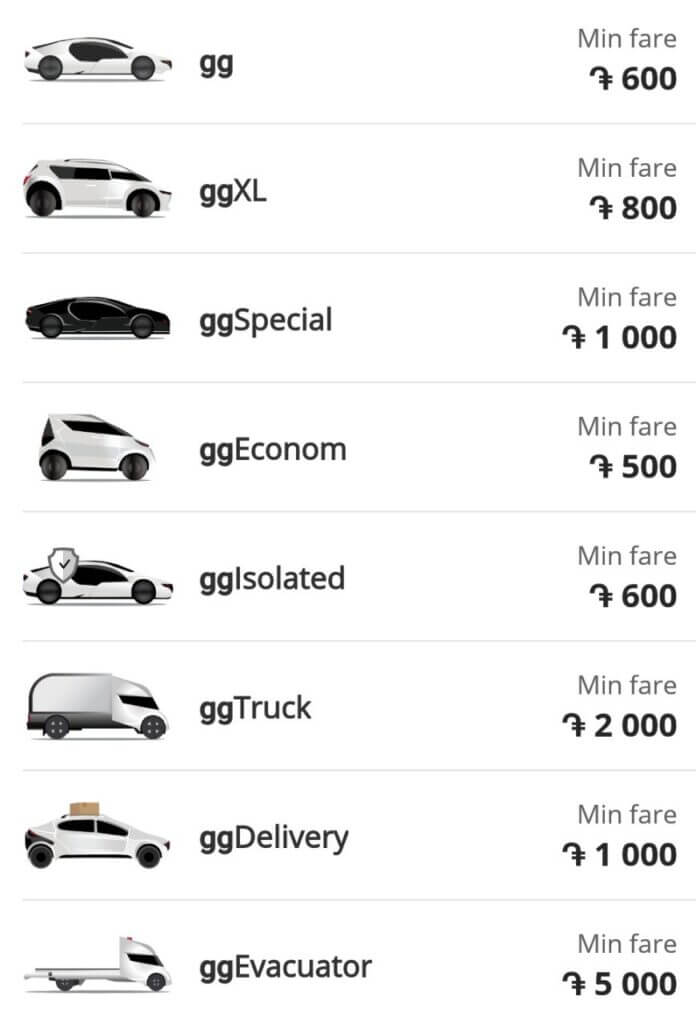 The image shows the fares of their services. The fares may increase due to traffic or a high number of requests. For a standard gg Taxi, you have to pay 100AMD for each additional kilometer and for ggSpecial, you have to pay 150AMD for each additional kilometers. The services may also change, for example in summer, there is special service which has air conditioning for the taxi.
Difference of Each Service
gg: A standard car may show, this includes Opel Astra, Nissan Tiida and etc.
ggXL: This is basically a car with more than 5 seats available to sit. Usually, the car is a mini-van.
ggSpecial: If you need a higher class of car, this is what you need to choose. However, it is still possible to receive a car like Opel Astra or Opel Zafira.
ggEconom: If you need a budget ride, you can just choose ggEconom, which is 100AMD less than a standard gg taxi.
ggIsolated: The taxi has a partition between the driver and the rear passenger seats.
ggTruck: The vehicle is used for the transportation of goods.
ggDelivary: With this service, you can deliver any product or goods to any location in Armenia.
ggEvacuator: This service is used for the transportation of cars. It is usually for sedans or smaller cars.
Their service is really good. The only problem is availability, sometimes it takes more than 30minutes to find a taxi. The best part of gg Taxi is their support which is really amazing. They have a support chat in their application and they will respond in less than one minute whenever you contact them.
All of their taxis should have a gg logo on the back window of the car, if you do not see it, please avoid that taxi and contact their support for cancelation, if you are not able to cancel the order. Also, never forget to check the plate number and the car to match with the one you have ordered.