Holiday Inn Express Yerevan in Heart of the City
The Holiday Inn Express Yerevan is a new and contemporary hotel located in the heart of Yerevan, Armenia. As one of the hotels under the IHG (InterContinental® Hotels & Resorts) brand, it offers modern and smart accommodation options to guests. The hotel is situated just a stone's throw away from Mashtots Park and a 5-minute walk from Republic Square, making it an ideal choice for business travelers, young explorers, and tourists who are looking for a central and peaceful place to stay. Culture enthusiasts will also appreciate the hotel's proximity to Yerevan's many cultural sites. The central location of the hotel makes it easy for guests to explore the city and all it has to offer.
Convenient Arrival Experience with Shuttle Service
The hotel offers a complimentary shuttle service to guests arriving at Zvartnots International Airport, providing a convenient and stress-free arrival experience. The journey from the airport to the hotel takes approximately 20 minutes, allowing guests to quickly and easily reach the hotel. The hotel's accessibility is further enhanced by its proximity to Opera and the National Gallery, two popular destinations in Yerevan.
Comfortable and Enjoyable Stay with Modern Rooms
Holiday Inn Express Yerevan features 130 modern rooms, each designed to provide guests with a comfortable and enjoyable stay. Each room is equipped with free high-speed WiFi, allowing guests to stay connected during their stay. In-room safes provide added security, while irons and ironing boards allow guests to maintain a professional appearance. The invigorating showers in each room provide a refreshing start to each day. Guests can also enjoy a peaceful environment and a stunning view of the park and city center from their rooms.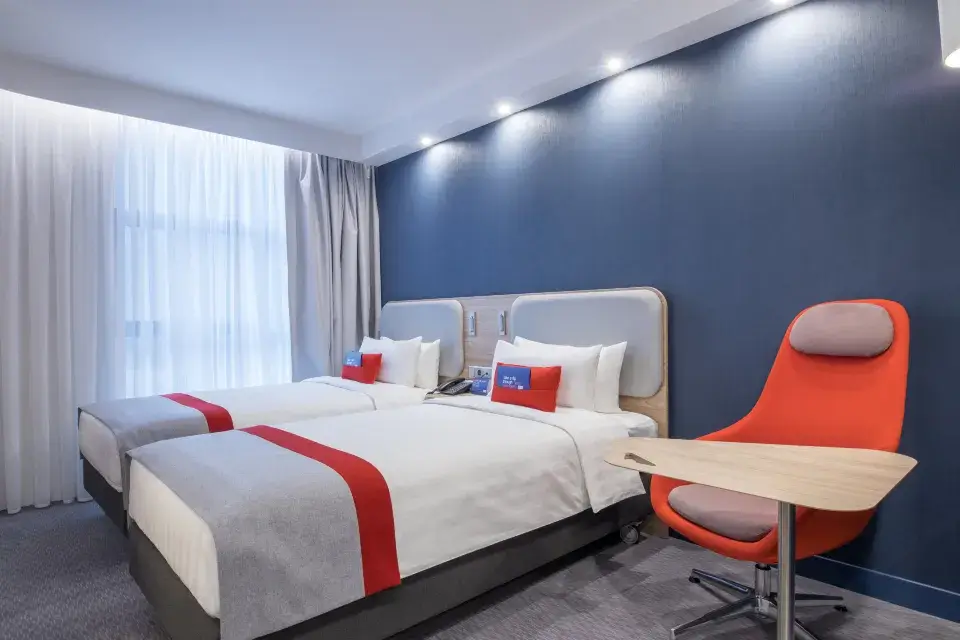 Enjoy Local and International Cuisines, Craft Beer and Wine
Guests have a range of food and beverage options to choose from during their stay. The hotel is surrounded by local and international restaurants offering a variety of cuisines, craft beer, and wine. Guests can also relax in the beautiful park or visit one of the conveniently located supermarkets or banks located next to the hotel. These options allow guests to experience the local culture and enjoy all the city has to offer during their stay.
Holiday Inn Express Armenia Also has Conference Venue
The hotel also features a well-equipped conference venue with a terrace facing the park, making it an ideal location for meetings and events. The conference venue can accommodate up to 120 people, providing a spacious and versatile space for a variety of gatherings. The terrace provides a unique and enjoyable setting for events, with views of the park and city center.
24/7 Access to Snacks and Drinks with Express Cafe and Bar
The Express Cafe and Bar is available 24/7, providing guests with convenient access to snacks and drinks throughout their stay. The cafe and bar offer a relaxed and welcoming atmosphere, making it the perfect place for guests to catch up with friends or simply relax after a busy day.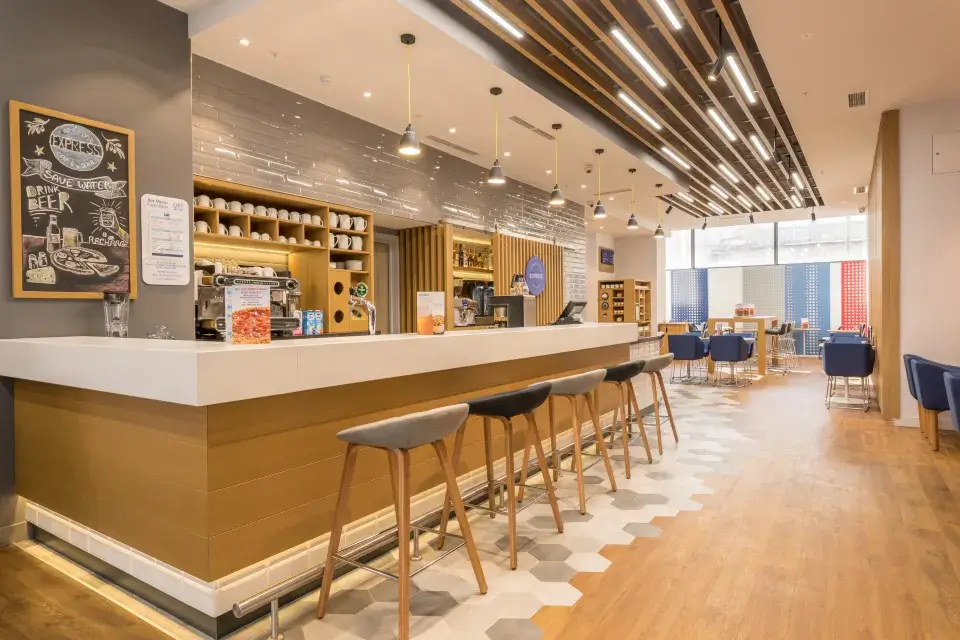 Holiday Inn Express is Top Choice for Business Travelers and Tourists Visiting Armenia
The Holiday Inn Express Armenia provides a smart and contemporary stay in Yerevan, with convenient transportation options, modern accommodations, and a range of food and beverage options. Its prime location and well-equipped conference venue make it an ideal choice for business travelers and tourists visiting Yerevan. The hotel's proximity to cultural sites and its central location provide guests with easy access to the city and all it has to offer. With its modern rooms, conference venue, and convenient food and beverage options, the Holiday Inn Express Yerevan is a top choice for those visiting Armenia
Book your stay at the Holiday Inn Express in Armenia, Yerevan, today and experience the best in contemporary and convenient accommodations in Yerevan!